IRC Hiring New Crew Members
Friday, April 30th, 2021
IRC is currently accepting applications for team member (field technician) positions for 2021 for our Pine Rockland Initiative program. Our restoration projects will be in Miami-Dade County working on restoring the pine rockland fragments through invasive plant treatment, native hardwood reduction, rare plant monitoring, seed collecting, and other restoration activities. Responsibilities include using hand tools and mechanical tools, such as chainsaws and brush cutters, and applying herbicide. Some knowledge of south Florida plants (native and non-native) is preferred but not required (must have the ability to learn in the field). Must be okay working in the south Florida climate (hot and humid). Must be able to lift 50 lbs. Full-time, starting pay rate is $10.50/hour, and must have reliable transportation. Our field office is located in Goulds, FL (south Miami-Dade County). Email Michelle Smith your resume and cover letter at msmith@regionalconservation.org.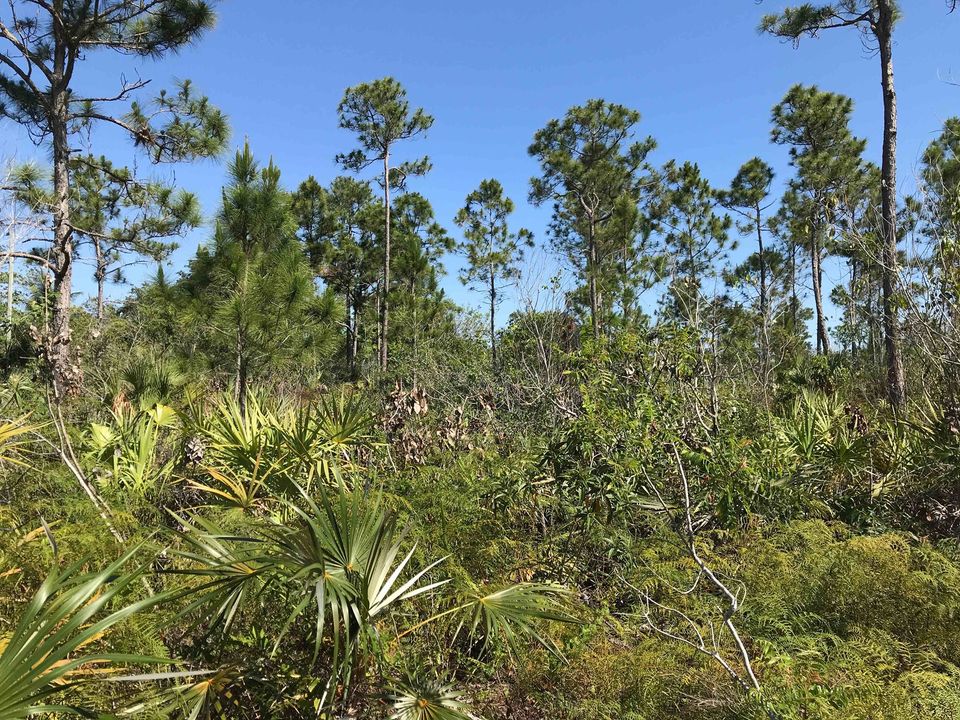 New York Life Foundation Grant
Monday, April 26th, 2021
IRC received a $1,000 individual grant from the New York Life Foundation to recognize the time and expertise agents provide to local nonprofits in their local community. This grant recognizes the volunteer service of John Campanola, Agent with New York Life's South Florida General Office in Sunrise, who has been a volunteer with the IRC for over seven years and is serving on their Board of Directors.
Both John and the New York Life Foundation have been key support of IRC's work. Everyone at IRC is grateful for their continued support and plan to use this grant towards our Green Delray Program.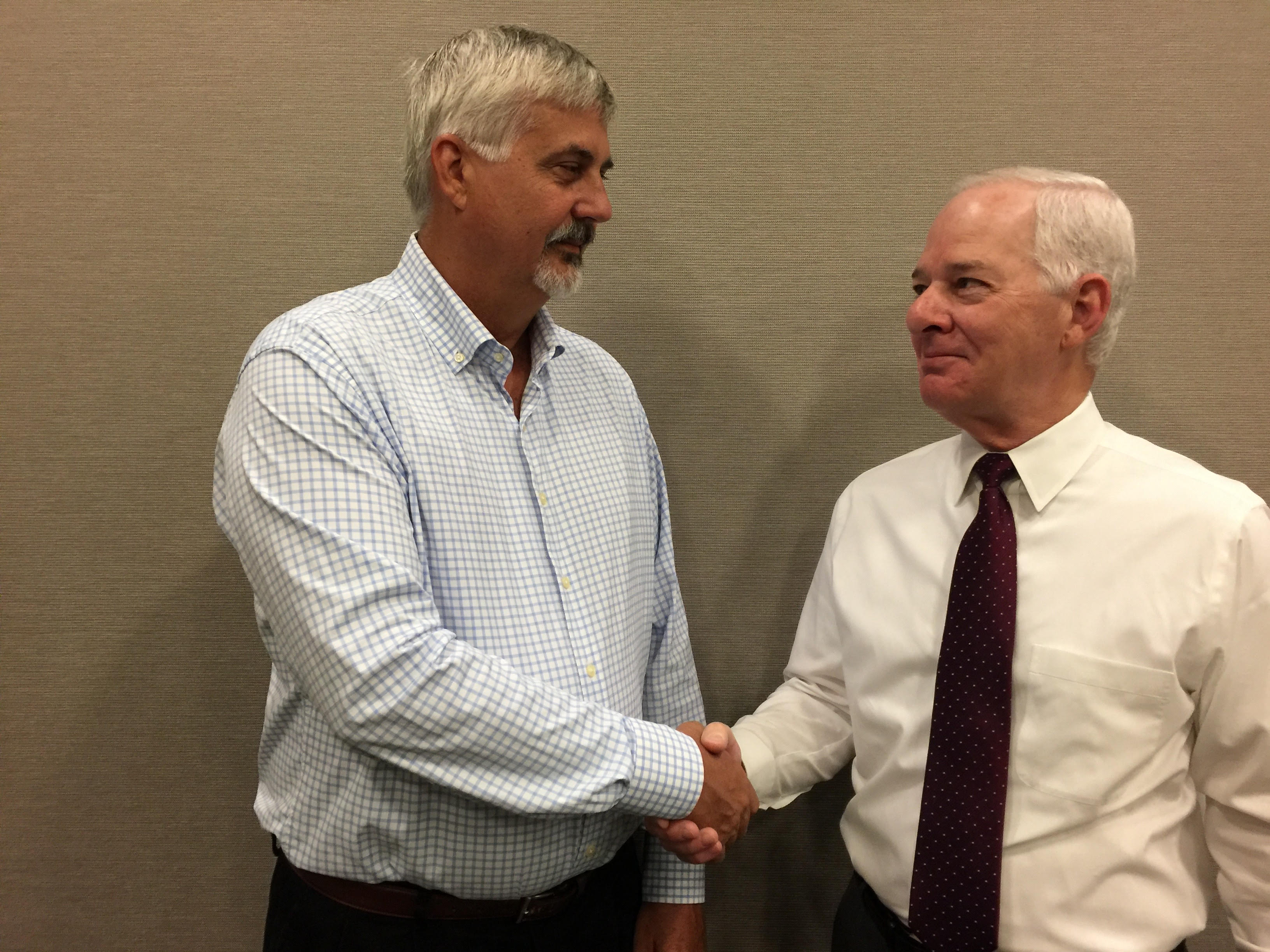 George N. Avery Pineland Volunteer Day
Saturday, April 17th, 2021
IRC's field biologist, Michelle Smith, and restoration crew leader, Alex Seasholtz, led volunteers to help clean up George N. Avery Pineland. There were lots of beer bottles, random car parts, and random house debris. A 10yd dumpster was filled! Thank you volunteers for all of your help.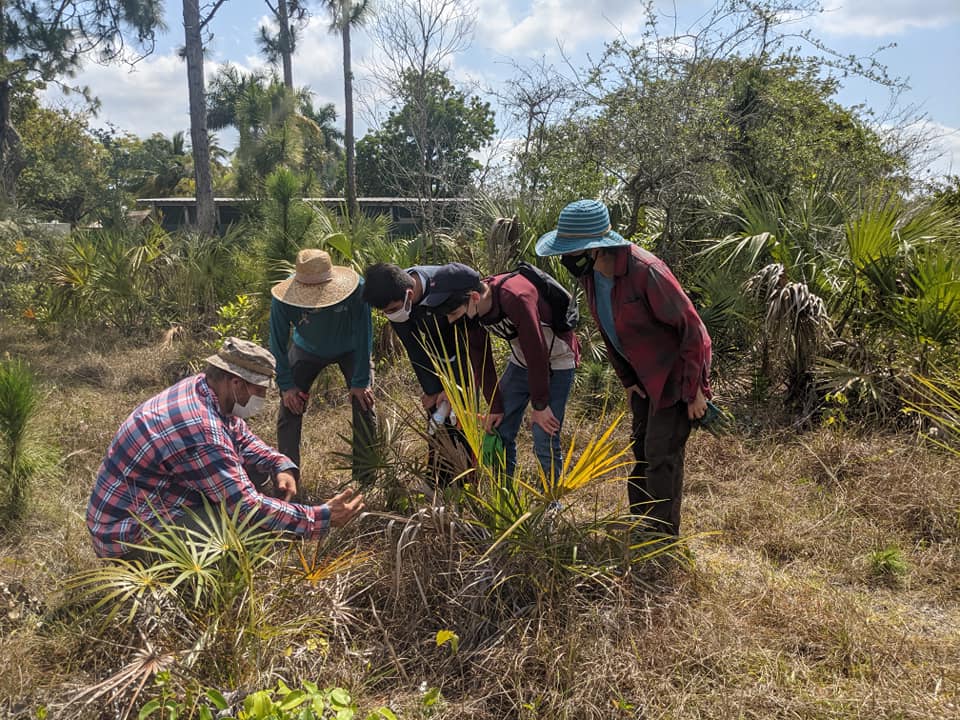 City of Boynton Beach Earth Day Kick-Off Event
Saturday, April 17th, 2021
IRC's administrative assistant, Samantha Gabriel, had a great time at the City of Boynton Beach's drive-thru 200-tree giveaway event for Earth Day 2021! We had a booth to hand out stickers and info on IRC's work with some of our friends, like Community Greening, Sea Turtle Adventures, Surfrider Foundation, Loggerhead Marine Center, and more.
Thanks for having us City of Boynton Beach and Go Green Boynton. Happy Earth Day to all!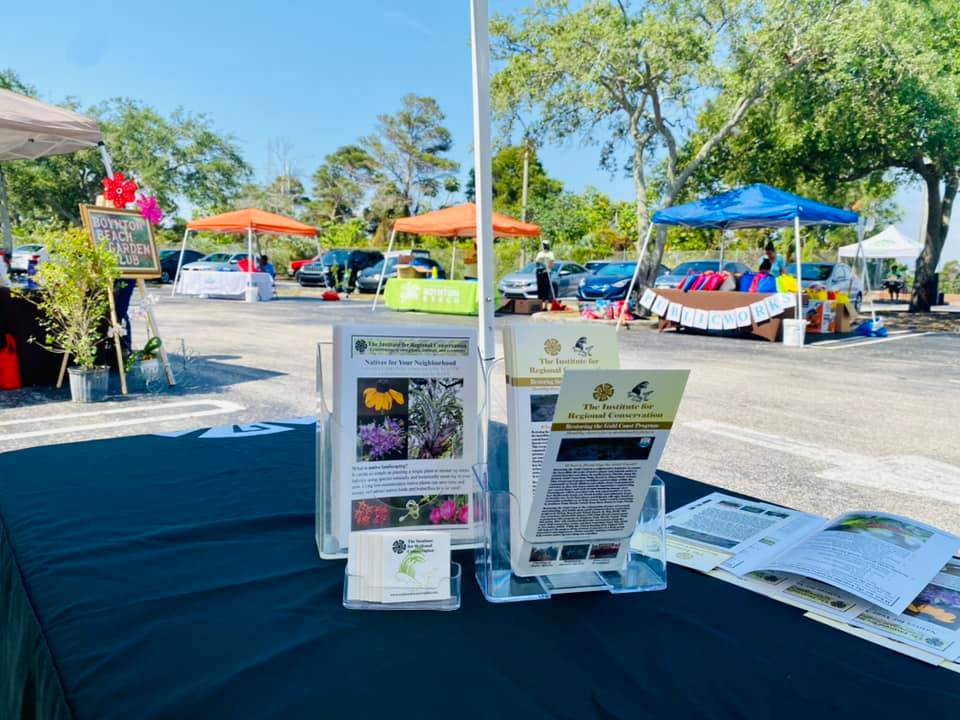 Native Plant Field Day 2021
Saturday, March 27th, 2021
For this year's Native Plant Field Day, IRC led a field trip at Pine Shore Pineland Preserve in south Miami-Dade County as part of the Dade Chapter Florida Native Plant Society's (DCFNPS) Native Plant Field Day weekend.
IRC's restoration crew leader, Alex, and field biologist, Michelle, shared the ongoing restoration and collaboration efforts that have been going on at the preserve for several years now. We were able to find some great pine rockland plants in flower and saw so many Echo moth caterpillars munching on anything they could get their mouths on! Plants we saw in flower were Butterflyweed, Forked bluecurls, and Pricklypear. Thank you DCFNPS for putting together this weekend of field trips.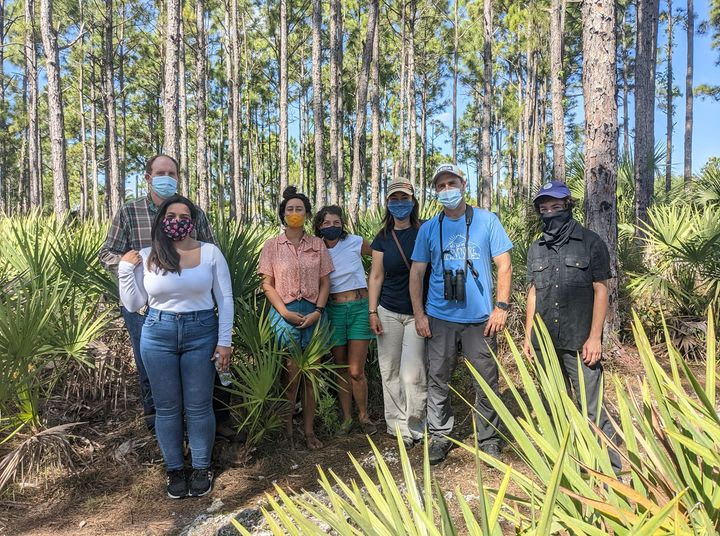 Talk at Ocean Ridge Garden Club
Monday, March 8th, 2021
IRC's George Gann gave a talk to our friends at Ocean Ridge Garden Club (ORGC) on The Institute for Regional Conservation - Conservation and Gardening in a Changing World. George discussed the importance of native plant gardening and how it can contribute to the restoration of our environment.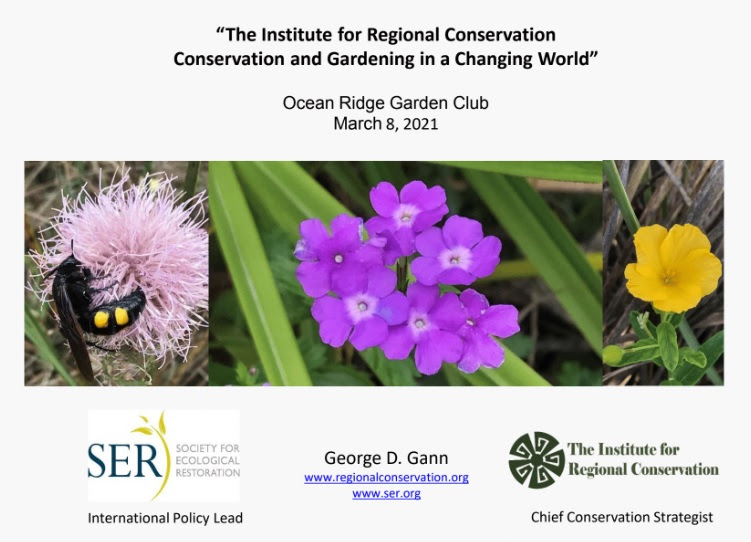 Webinar: Restoration of Native Plant Communities
Monday, February 22nd, 2021
IRC's George Gann presented in this webinar hosted by the Cuplet Fern Chapter of the Florida Native Plant Society (FNPS). In this webinar, he talked about the restoration of native plant communities. If you missed the webinar or want to share it, follow this link.
Thank you Cuplet Fern FNPS and congratulations on celebrating 10 years!

IRC Returns to Lake Ida Parcel
Saturday, February 13th, 2021
Thank you to everyone who came out to the Lake Ida Parcel this month. Volunteers helped us remove non-native and invasive plants such as Caesarweed, Carrotwood, Earleaf acacia, Lima, Rose Natalgrass, and many more. Special thank you to John Miller for being our wonderful chauffeur!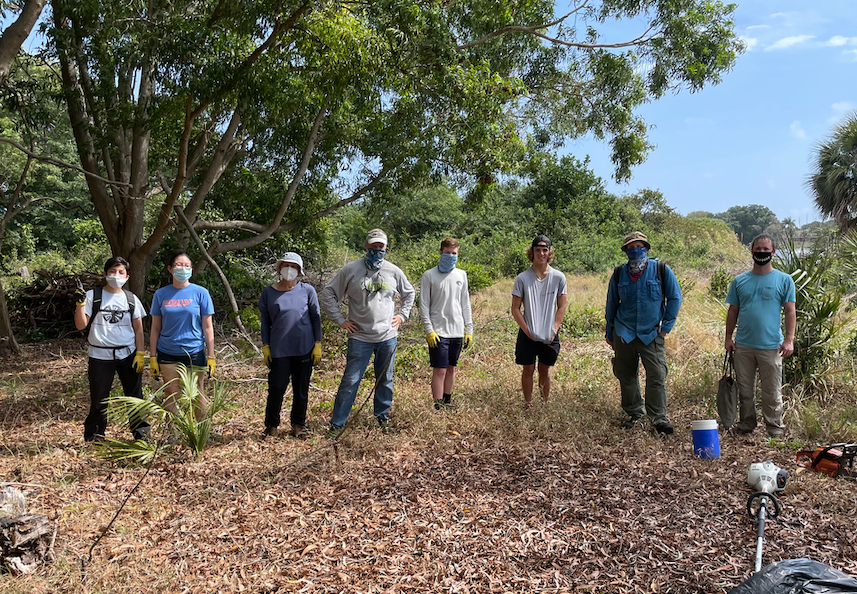 Red Reef Park Restoration
Friday, February 12th, 2021
IRC continued restoration work at Red Reef Park in Boca Raton by improving areas of the park to benefit native coastal plants. To follow up this habitat restoration work, we planted over 130 native plants including Baycedar, Beach morningglory, Blacktorch, Blolly, Marlberry, Saw palmetto, White indigoberry, and much more.
These efforts were made possible by a collaboration with Fairchild Tropical Botanic Garden and the City of Boca Raton. We appreciate Neglected Plants, Coastal Grower's, Inc., and the volunteers for their help in making this happen!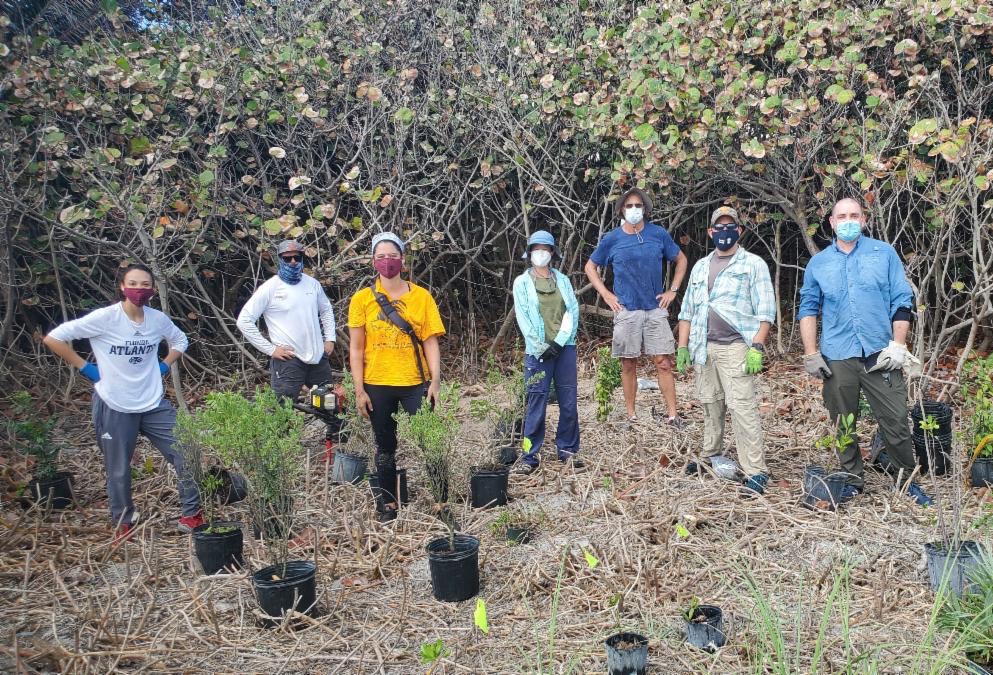 Dune Field Trip with Beach Property Owners' Association
Saturday, January 23rd, 2021
George Gann led an interactive teaching tour for the Beach Properties Owners' Association (BPOA) at the Delray Beach Municipal Beach highlighting IRC's restoration activities. Only 12 members were allowed to attend to minimize the disturbance to the dunes and the fragile native plants that are just now taking root. Participants learned how native plants were added in areas where sea grapes had been trimmed as well as in areas where undesirable invasive species were removed. The benefits of biodiversity were described and shown in the middle of the dune system, which opened several eyes and minds.
The BPOA is a non-profit organization for residents of Delray Beach's barrier island. Their mission is to tackle environmental and lifestyle issues that benefit residents and visitors alike.