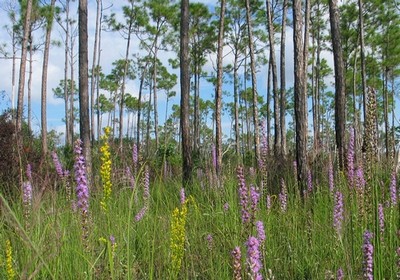 What is a Pine Rockland?
Pine Rocklands comprise a globally imperiled ecosystem that exists only in southern Florida and parts of the Bahamas. In South Florida, they are home to many rare plant and animal species, including 11 federally listed animals and 16 federally listed plants. Dozens of state-listed plants and regionally rare plants designated by IRC are also present. A typical pine rockland is characterized by limestone outcroppings, sometimes covered with sand, a canopy of South Florida Slash Pine, and diverse understory and groundcover layers including temperate, tropical, and endemic plants. In South Florida, intact pine rocklands have all but disappeared outside of Everglades National Park (ENP) in Miami-Dade County and parts of National Key Deer Refuge in the Florida Keys. Outside of ENP in Miami-Dade County, small patches, representing perhaps 2% of the original extent of pine rocklands within Miami-Dade County's urban corridor, are all that remain. Threats to remnant pine rockland patches include destruction, invasive plants and animals, fire suppression, and dumping.
What is the Pine Rockland Initiative?
The Pine Rockland Initiative was founded in 2005 with an emphasis on providing support to private owners of pine rocklands, especially for invasive plant control, with primary funding from the US Fish and Wildlife Service (FWS). Over the years it has grown and evolved to become a multi-faceted program with many funders and collaborators including the FWS Coastal and Partners for Fish and Wildlife Programs, US DOD, Fairchild Tropical Botanic Garden, Miami-Dade County, Jacksonville Zoo and Gardens, The Nature Conservancy, Miami Beach Garden Club, NABA, private donors, and many more. The goal of the program is to restore and manage pine rockland fragments on public and private lands throughout the range of pine rocklands, including providing the thought leadership needed to move beyond "business as usual" and save this unique part of our natural heritage. One way to do this it through "expanding the footprint" of pine rocklands, including the restoration of fire-excluded pine rockland patches, as well as the restoration of pine rocklands that have been destroyed.
Some PRI activities:
On-Site Restoration Consulting
Rare Species Surveys
Vegetation Monitoring
Invasive Plant Removal
Native Hardwood Reduction
Development of New Restoration Techniques
Long-term Monitoring
Public Speaking and Outreach
How do I learn more?
Email pri@regionalconservation.org or call IRC at 305-247-6547.
About IRC
Since 1984, IRC has been dedicated to the protection, restoration, and long-term management of biodiversity. As a South Florida-based nonprofit, we aim to prevent regional extinctions of rare plants, animals, and ecosystems. For more than a quarter of a century, we have worked to preserve South Florida's natural heritage through partnerships with local, state, and federal agencies, and nonprofit organizations. We believe in the value of our regional ecosystems and remain committed to their conservation. Please join us in this endeavor!