Please scroll to the bottom for more images.
Coco-plum
Chrysobalanus icaco
Chrysobalanaceae
General Landscape Uses:
One of the most widely used and versatile native shrubs or shrubby trees in South Florida. It can be used and accents or specimens in formal or informal landscapes, as trimmed or informal hedges, and as a componant of mixed buffer plantings. Learn more about gardening with coco-plum for birds and other wildlife in
Attracting Birds to South Florida Gardens
.
Ecological Restoration Notes:
A common element is a wide variety of wetland ecosystems. Also found occasionally in maritime hammocks and the horizontal form on beaches and in coastal strand.
Availability:
Widely cultivated. Available in Lake Worth at
Indian Trails Native Nursery
(561-641-9488) and at
Amelia's SmartyPlants
(561-540-6296), in Sarasota at
Florida Native Plants Nursery
(941-322-1915), in Boynton Beach at
Sustainscape
(561-245-5305) and in Melbourne at
Native Butterfly Flowers
(321-626-7386).
Description:
Large shrub to medium tree usually with dense foliage forming a rounded crown. Trunks to 1 foot in diameter, usually much smaller. Leaves thick, glossy, dark green above, lighter beneath, 1-3 inches long.
Dimensions:
Typically 10-15 feet in height, rarely taller; often kept shorter as a trimmed hedge. Usually broader than tall.
Growth Rate:
Moderate.
Range:
Monroe County Keys north to Brevard, Glades and Sarasota counties; West Indies, Mexico, Central America, northern South America and western Africa. On the peninsula, nearly throughout from Miami-Dade and Monroe counties north to Martin County and Lee County south of the Caloosahatchee River, then rare and restricted mostly along the coast north to Brevard and Manatee counties; also recently collected in Pasco County on Anclote Key. In the Monroe County Keys, apparently disjunct from Miami-Dade County and Key Largo to Big Pine Key and nearby islands. For a digitized image of Elbert Little's Florida range map, visit the
Exploring Florida
website.

Map of select IRC data from peninsular Florida.

Map of suggested ZIP codes from South Florida north to southern Brevard, Osceola, Polk, and Pasco counties.

Map of ZIP codes with habitat recommendations from the Monroe County Keys north to Martin and Charlotte counties.
Habitats:
Swamps, moist forests and coastal beaches and thickets.
Soils:
Seasonally inundated to moist, well-drained to poorly-drained sandy, limestone, or organic freshwater soils, with humusy top layer.
Nutritional Requirements:
Moderate to high; grows best with some organic content and may languish in nutrient poor soils.
Salt Water Tolerance:
Low; does not tolerate long-term flooding by salt or brackish water.
Salt Wind Tolerance:
Moderate to secondary line, depending on cultivar.
Drought Tolerance:
Moderate to low; requires moist to wet soils, but tolerant of short periods of drought once established.
Light Requirements:
Full sun.
Flower Color:
White.
Flower Characteristics:
Semi-showy in clusters 1-2" long.
Flowering Season:
All year; peak winter-spring.
Fruit:
Purple or pink to white drupe, egg-shaped. Edible, juicy and sweet, the fruit and seed can be eaten together, spitting out the husk.
Wildlife and Ecology:
Provides significant food and cover for wildlife. Flowers attract butterflies, bees, beetles, and wasp pollinators. Squirrels eat the fruit. While the fruits are too large for most birds, cardinals, grackles, jays and red-bellied woodpeckers eat them in bites. They host a wide variety of insects that, in turn, provide food for insect-eating birds.
Horticultural Notes:
Can be grown from de-pulped seeds. Germiniation may take several months. More commonly grown from hardwood cuttings under mist, which is useful if the same form of plant is desired.
References:
Nelson 2003, Schaefer & Tanner 1997
Comments:
There are several forms of this species in South Florida, some of which have been formerly described as separate species. Common cultivars sold in South Florida are 'Red Tip' and 'Green Tip' with reddish and greenish new growth respectively and 'Horizontal,' a low-growing form of coastal areas. This is a very adaptable shrub with a wide variety of landscape uses. However, choosing ecotypes or forms adapted to the local environment will enhance success. The fruit can be used to make jellies and preserves. See also the Florida Wildflower Foundation's
Flower Friday
page.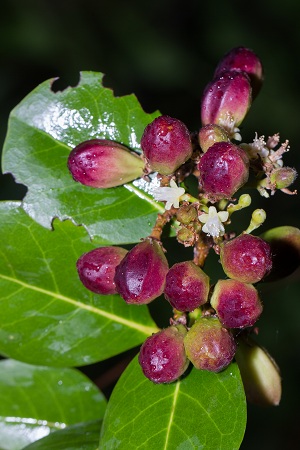 Copyright by: James Johnson, 2014
In habitat, Hillsboro Pineland Natural Area, Broward County, Florida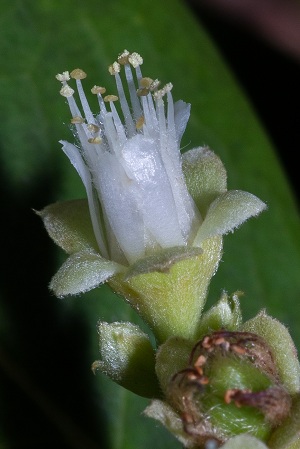 Copyright by: James Johnson, 2014
In habitat, Hillsboro Pineland Natural Area, Broward County, Florida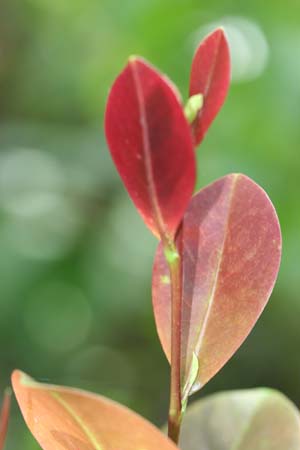 Copyright by: George D. Gann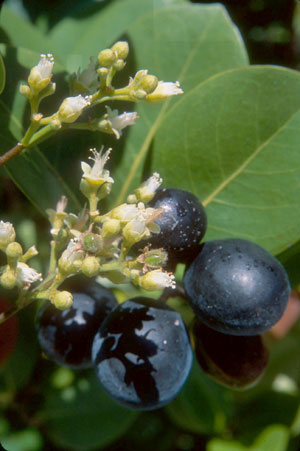 Copyright by: Roger L. Hammer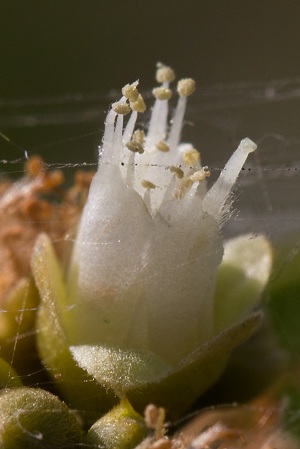 Copyright by: James Johnson, 2014
In habitat, Miramar Pineland Natural Area,
Broward County, Florida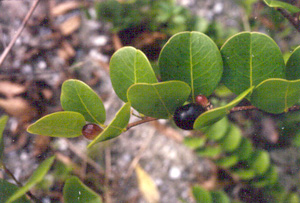 Copyright by: Ecohorizons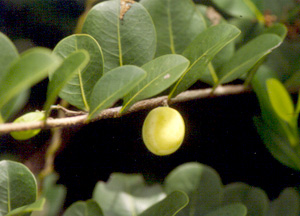 Copyright by: Roger L. Hammer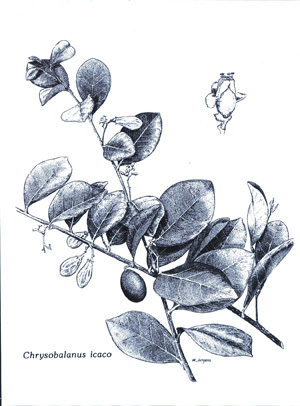 Copyright by: Wes Jurgens
Other data on Chrysobalanus icaco available from: