Please scroll to the bottom for more images.
Fulvous Hairstreak
Electrostrymon angelia
Lycaenidae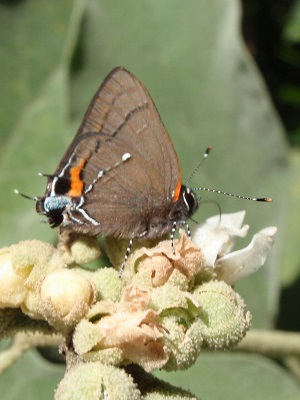 Copyright by: Beryn Harty
Description:
Small butterfly with a wingspan up to 1-1/8 inches. The upperside of the wings is copper-colored; both forewing and hindwing have black borders. The underside is grayish-brown, with a large white spot near the leading edge of the hindwing and a white, broken postmedian line edged with black. The hindwing has two tails. The slug-shaped caterpillar is olive-green with a black head, reddish-brown stripes, short hairs and two rows of small, pale spots on the back.
Range:
The West Indies; a recent introduction to peninsular Florida.
Map of native range by ZIP code north to Indian River and Manatee counties.
Distribution and Abundance in Florida:
Rare in Central Florida, uncommon to locally common all year in South Florida, common all year in the Keys; caterpillars are present all year.
Habitat(s):
Hammocks and their edges, coastal uplands, canal banks and shrubby areas.
Reproduction:
Eggs are laid singly or in clusters on the young leaves of the host plants.
Natural History:
Fulvous hairstreaks appeared in South Florida in the 1970s. The population may be moving slowly north into Central Florida, but the species is not cold-tolerant.
Food:
Caterpillars feed on the young leaves of host plants. The only reported larval host plant in Florida is the nonnative Brazilian-pepper (Schinus terebinthifolius), but southern river sage (Salvia misella) and other Salvia species are reported as possible hosts in Cuba. Nectar plants are varied and include the native Jamaica-dogwood (Piscidium piscipula) and seagrape (Coccoloba uvifera), the weedy Spanish-needles (Bidens alba var. radiata), and the nonnative Brazilian-pepper (Schinus terebinthifolius) and karum tree (Millettia pinnata).
Comments:
For more information, visit Butterflies and Moths of North America and Butterflies of Cuba.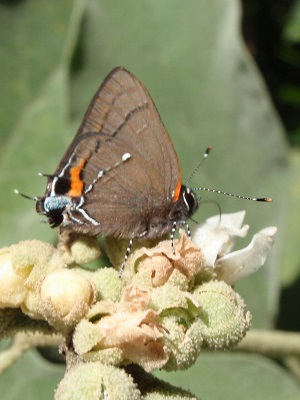 Copyright by: Beryn Harty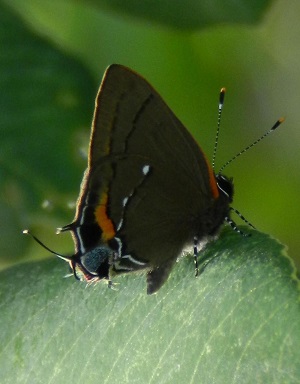 Copyright by: Beryn Harty