Please scroll to the bottom for more images.
Acacia auriculiformis A. Cunn. ex Benth.
Earleaf acacia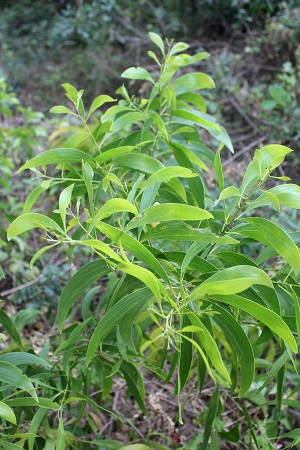 Copyright by
: George D. Gann, 2016
Naturalized in Delray Beach, Florida, USA
Enlarge
Family:
Fabaceae
Group:
Dicot
Substrate:
Terrestrial
Habit:
Tree
Perennation:
Perennial
Native Range:
Australia; widely cultivated and naturalized elsewhere.
Map of Florida Locations
FLEPPC Status:
Category I Invasive
SOUTH FLORIDA Occurrence:
Present
SOUTH FLORIDA Native Status:
Not Native, Naturalized
SOUTH FLORIDA Cultivated Status:
Cultivated
Comments:
For more information and images, visit Florida Invasive Plant Species Mobile Field Guide (
FLIP
) or click on the Atlas of Florida Vascular Plants link below.
Other data on Acacia auriculiformis available from :
Acacia auriculiformis has been found in the following 87 conservation areas :
Occurrence
Native Status
Alice C. Wainwright Park
Present
Not Native, Naturalized
Andrew Dodge Memorial Pineland
Present
Not Native, Naturalized
Arthur R. Marshall Loxahatchee National Wildlife Refuge
Present
Not Native, Naturalized
Big Cypress National Preserve
Present
Not Native, Naturalized
Bill Baggs Cape Florida State Park
Present
Not Native, Naturalized
Bill Sadowski Park
Present
Not Native, Naturalized
Blazingstar Preserve
Present
Not Native, Naturalized
Caloosahatchee Creeks Preserve
Present
Not Native, Naturalized
Chapman Field Park
Present
Not Native, Naturalized
Coral Pines Park
Present
Not Native, Naturalized
Coral Reef Park
Present
Not Native, Naturalized
County Line Scrub, Miami-Dade County
Present
Not Native, Naturalized
Crystal Lake Sand Pine Scrub Natural Area
Present
Not Native, Naturalized
Dagny Johnson Key Largo Hammocks Botanical State Park
Possibly Extirpated
Not Native, Naturalized
Danforth
Possibly Extirpated
Not Native, Naturalized
Deering Estate at Cutler
Present
Not Native, Naturalized
Delray Beach, Lake Ida parcel
Present
Not Native, Naturalized
Delray Oaks Natural Area
Present
Not Native, Naturalized
Doris Davis Forman Wilderness Preserve Natural Area
Present
Not Native, Naturalized
Dupuis Reserve
Present
Not Native, Naturalized
Everglades and Francis S. Taylor Wildlife Management Area
Present
Not Native, Naturalized
Fern Forest Nature Center
Present
Not Native, Naturalized
Florida Atlantic University Ecological Site
Present
Not Native, Naturalized
Florida City Pineland
Present
Not Native, Naturalized
Fort Lauderdale Ex. Airport Gopher Tortoise Preserve
Present
Not Native, Naturalized
Frenchman's Forest Natural Area
Present
Not Native, Naturalized
Fuchs Hammock Preserve
Present
Not Native, Naturalized
Gopher Tortoise Preserve
Present
Not Native, Naturalized
Grassy Waters Preserve
Present
Not Native, Naturalized
Greynolds Park
Present
Not Native, Naturalized
Halpatiokee Regional Park
Present
Not Native, Naturalized
Highland Oaks Park
Present
Not Native, Naturalized
Highlands Scrub Natural Area
Present
Not Native, Naturalized
Hillsboro Pineland Natural Area
Present
Not Native, Naturalized
Hobe Sound National Wildlife Refuge
Present
Not Native, Naturalized
Hugh Taylor Birch State Park
Present
Not Native, Naturalized
J.W. Corbett Wildlife Management Area
Present
Not Native, Naturalized
John Kunkel Small Pineland
Present
Not Native, Naturalized
Jonathan Dickinson State Park
Present
Not Native, Naturalized
Juno Dunes Natural Area
Present
Not Native, Naturalized
Jupiter Ridge Natural Area
Present
Not Native, Naturalized
Kendall Indian Hammocks Park
Present
Not Native, Naturalized
Kiplinger
Present
Not Native, Naturalized
Larry and Penny Thompson Park
Present
Not Native, Naturalized
Long Key Natural Area & Nature Center
Present
Not Native, Naturalized
Loxahatchee River Natural Area
Present
Not Native, Naturalized
Ludlam Pineland
Present
Not Native, Naturalized
Luis Martinez United States Army Reserve Station, Richmond Pine Rocklands
Present
Not Native, Naturalized
Military Trail Natural Area
Present
Not Native, Naturalized
Miramar Pineland
Present
Not Native, Naturalized
Navy Wells Pineland #23
Present
Not Native, Naturalized
Ned Glenn Nature Preserve
Present
Not Native, Naturalized
Nixon Smiley Pineland Addition
Present
Not Native, Naturalized
Okeeheelee Park
Present
Not Native, Naturalized
Peck Lake Park
Present
Not Native, Naturalized
Pine Island Ridge Natural Area
Present
Not Native, Naturalized
Pine Jog Environmental Sciences Center
Present
Not Native, Naturalized
Porter-Russell Pineland
Present
Not Native, Naturalized
Prairie Pines Preserve
Present
Not Native, Naturalized
Quail Roost Pineland
Present
Not Native, Naturalized
R. Hardy Matheson Preserve
Present
Not Native, Naturalized
Rocky Point Hammock
Present
Not Native, Naturalized
Rolling Oaks Park
Present
Not Native, Naturalized
Ron Ehman Park
Present
Not Native, Naturalized
Rookery Bay National Estuarine Research Reserve
Present
Not Native, Naturalized
Rosemary Ridge Preserve
Present
Not Native, Naturalized
Rosemary Scrub Natural Area
Present
Not Native, Naturalized
Royal Palm Beach Pines Natural Area
Present
Not Native, Naturalized
Savannas Preserve State Park
Present
Not Native, Naturalized
Seabranch Preserve State Park
Present
Not Native, Naturalized
Seacrest Scrub Natural Area
Present
Not Native, Naturalized
Seminole Wayside Park
Present
Not Native, Naturalized
Serenoa Glade Preserve
Present
Not Native, Naturalized
Six Mile Cypress Slough Preserve
Present
Not Native, Naturalized
Tall Cypress Natural Area
Present
Not Native, Naturalized
Tilton
Present
Not Native, Naturalized
Tradewinds Park & Stables
Present
Not Native, Naturalized
Tree Tops Park
Present
Not Native, Naturalized
Tropical Park
Present
Not Native, Naturalized
Virginia Key Beach Park and Marine Stadium
Present
Not Native, Naturalized
Warbler Wetland Natural Area
Present
Not Native, Naturalized
West Biscayne Pineland
Present
Not Native, Naturalized
West Lake Park/Anne Kolb Nature Center
Present
Not Native, Naturalized
Woodmont Natural Area
Present
Not Native, Naturalized
Yamato Scrub Natural Area
Present
Not Native, Naturalized
Yellow Fever Creek Preserve
Present
Not Native, Naturalized
Zoo Miami
Present
Not Native, Naturalized