Floristic Inventory of the Florida Keys Database Online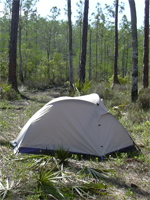 IRC Staff (past & present) Conducting the FISF
The Floristic Inventory of the Florida Keys (FIFK) was initiated in 1995 as part of the Floristic Inventory of South Florida. It is the first internal replicate of the FISF, which was initiated by IRC in 1994. The assessment component of the project was initiated in 2006, and follows the methods employed by the FISF to rank and evaluate the flora of the Florida Keys. Unlike the FISF Database Online, all species pages in the FIFK are annotated.
We bring on Janice A. Duquesnel of the Florida Park Service as an additional author for the FIFK. Janice has been a valued collaborator since 1996 and we thank her for her extrordinary efforts to assist us with our work in the Florida Keys. We also thank Bruce Hansen of the University of South Florida for working closely with us to review and add many herbarium vouchers for the Monroe County Keys.
A review of the methods and the preliminary results of the FISF were published in the Executive Summary and Chapter 1 of IRC's book Rare Plants of South Florida; Their History, Conservation, and Restoration (Gann, Bradley & Woodmansee, 2002).
Access to the FIFK Database is free,
click here to access the FIFK.