...............................
...............................
...............................
Past Major Sponsors:




Donate Now!
Natives for Your Neighborhood (NFYN) and the Floristic Inventory of South Florida (FISF) database are accessed by thousands of users each week. These services are based on almost two decades of research and collaboration between multiple agencies, organizations, and researchers. These free services are not free to provide, maintain, and improve. In fact, it costs IRC close to $20,000 a year to simply keep the lights on for our website and databases! Help IRC continue to provide the FISF and NFYN to the public for free while also being able to make valuable improvements and updates. Think about the value NFYN or the FISF database have to you and make your tax deductible donation today!
A resource to help change what is now a backyard hobby
for a few into a powerful conservation tool of many.
Here you can find out how to turn simple gardening into habitat restoration by using plants that are native to your specific area. The purpose of this site is to provide you with the information you need to do just that. By planting native plants and recreating natural habitats that are unique to your area, you are making a valuable contribution to the conservation and restoration of South Florida's natural heritage!
If you would like to learn more about native plants and the importance of conservation, or simply learn how to use this website, please see the topics at right.
Map of South Florida
Below is a map of South Florida, defined here as the counties from Lake Okeechobee southward. Information for these counties is provided on this website. You may choose a county by clicking on the map, and a list of cultivated native plants that occur throughout that county is provided. However, if you'd like information specific to your home or project site, please enter a 5-digit zip code above and detailed data on the habitats and plants found there may be viewed.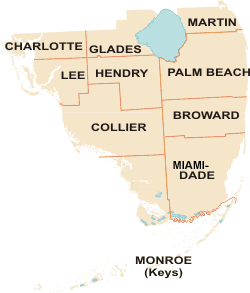 About natives for your neighborhood
...............................
What are native plants?

Frequently asked questions
...............................