THIS SATURDAY! Volunteers Needed for Upcoming Restoration Volunteer Day at Atlantic Dunes Park in Delray Beach!
Monday, April 3, 2017
IRC will be holding our next restoration volunteer day at Atlantic Dunes Park in Delray Beach on Saturday, April 8 from 9 am to 12 pm. This event, sponsored by Tina Pugliese of Pugliese Public Relations, will help continue to restore the park by removing invasives, planting natives, and picking up trash/recyclables.
See the flyer below for additional information. Questions and RSVPs can be sent to Cara Abbott (abbott@regionalconservation.org and 305-304-6610).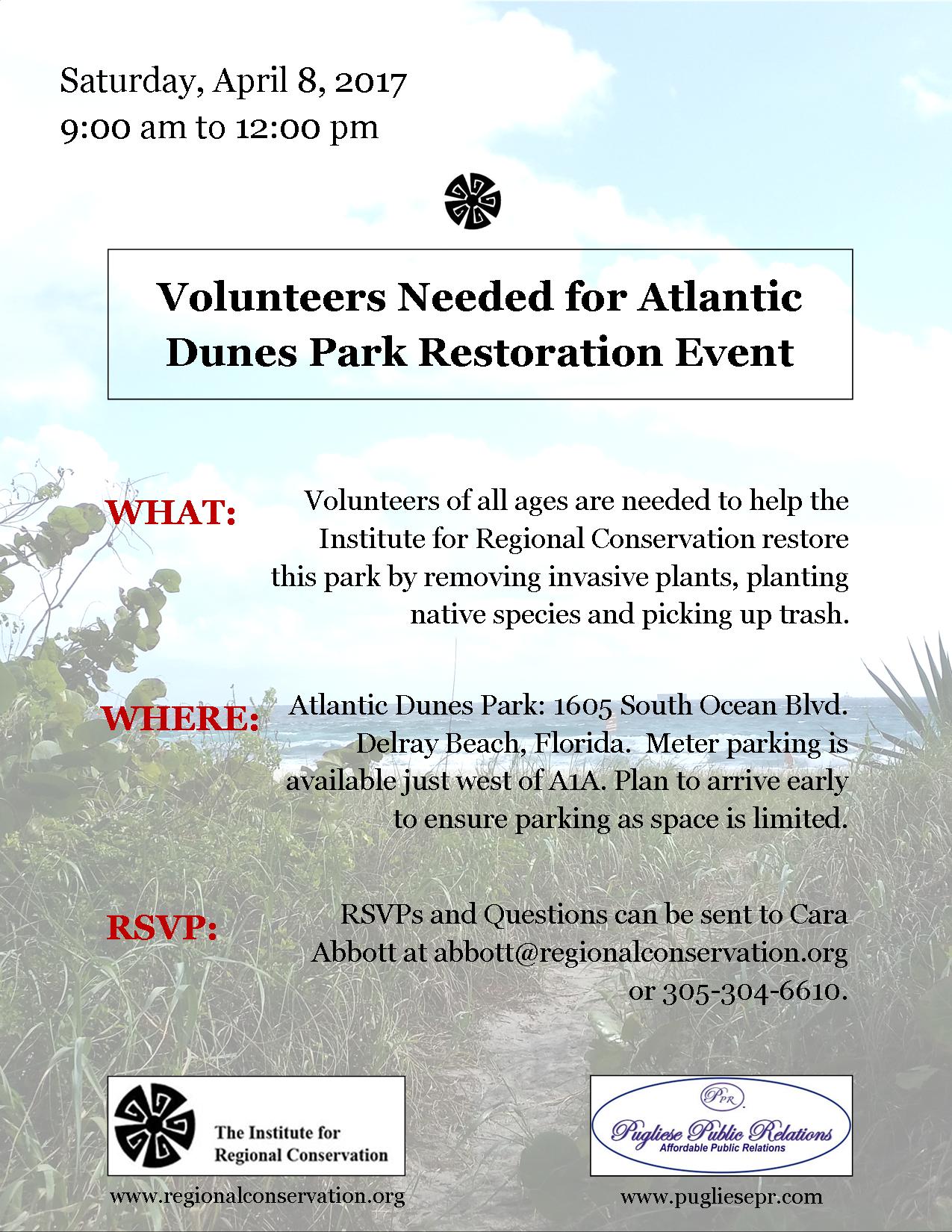 Volunteers Make IRC's Pine Rockland Restoration Day a Great Success!
Wednesday, March 8, 2017
Thank you to the 25 volunteers who came out to IRC's Pine Rockland Resoration Event on Saturday! Volunteers of all backgrounds came from Palm Beach, Broward, and Miami-Dade County to help restore the beautiful private pine rockland located on the Medloks, participants helped remove invasive plants such as Jasminum fluminense (brazilian jasmine), Schefflera actinophylla (umbrellatree), and Tradescantia spathaceaoyster (Oysterplant). Volunteers also provided maintenance on the trails throughout the 5 acre pineland by trimming back palms. IRC was able to donate approximately 20 pine rockland native plants to the Medloks, thanks to the Connect to Protect Netowork!
For additional photos from the volunteer day, check out the facebook album here.