George Gann Becomes a Member of the North American Plant Red List Authority.
Monday, June 26, 2017
IRC's Acting Director, George Gann, has been invited to join the International Union for Conservation of Nature (IUCN) North American Plant Red List Authority. This will make him an official member of the IUCN Species Survival Commission (SSC), the largest of six commissions in the IUCN.
The SSC undertakes assessments of the status of species, develops species conservation action plans and strategies, prepares technical guidelines and formulates IUCN policy statements. The Commission delivers and promotes this technical knowledge, advice and policy guidance to those who can influence the implementation of conservation actions across the world. The major role of the SSC Red List Authority is to contribute status assessments of species to the IUCN Red List of Threatened Species, in collaboration with Global Species Programme (GSP) staff in the IUCN Secretariat and the Red List Partner institutions.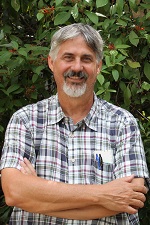 IRC Installs Bioacoustics Recorder to Record Bonneted Bat Echolocation Calls in Miami.
Tuesday, June 6, 2017
IRC Pine Rockland Initiative Program Coordinator, Maha Nusrat, and IRC Entomologist, Sandy Koi, recently installed a Bioacoustics Recorder at the USCG offices where the instrument will record wavelength data for the next month. IRC will then view the recorded wavelengths to look for bonneted bats echolocation calls at their specific high or low frequencies (19-20 kHz). The goal is to map the areas near and within boundaries of the Richmond tract to verify scientifically that bonneted bats (and probably others) are indeed on this property. If observed in this study, then bonneted bats are likely to be located within the Coral Reef Commons property as well which has not been adequately addressed by RAM developers in their Habitat Conservation Plan (HCP).